33Across Brand Graph(TM) Study Reveals Online Video Viewership Hitting Record Levels
Second Quarterly Performance Report Includes Insights on Auto, CPG, Education, Entertainment, Financial Services, Retail, Telecom, and Travel Industries
(May 10, 2012)

NEW YORK, NY -- (Marketwire) -- 05/10/12 --

News:
33Across, operators of the largest social and interest graph in the world, reaching over 1.25 billion users, today released its Brand Graph Q1 2012 Category Insights Report. This report demonstrates how more than 80 brands across 8 categories leveraged key insights about the social behaviors and preferences of their Brand Graph audience to achieve strong brand and direct response performance results.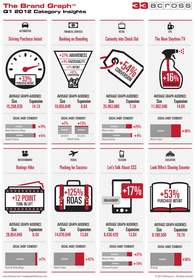 Key Highlights:
While this report focuses on the pervasiveness of multiple social behaviors, such as blog consumption, search, and content sharing, the findings highlight unprecedented levels of video viewership and social sharing habits. Also included are interest data benchmarks, which uncovered top consumer preferences within a given industry, often generating surprising findings that led to actionable, cross-media opportunities.
Online Video: Online video was the clear standout of this cross-category report. Consumers in seven out of eight Brand Graph categories viewed an average of over 30% more video than the Internet benchmark. This finding comes as no surprise, given a recent study that concluded nearly 84% of the U.S. Internet audience viewed online video.
Social Sharing Habits: Up 6% from last year, overall consumer content sharing activity was at an all-time high in Q1. This trend lends itself to both the feasibility of online content sharing and consumers' increasing trust in word-of-mouth recommendations.
Brand Graph Findings:
Brands that marketed to consumers in their respective Brand Graphs returned an average of 17% brand lift and 52% increase in direct response metrics.


Brands were able to predict and reach groups of new consumers likely to become brand loyal that were 7-20 times larger than their existing loyal audience segments.


The Brand Graph: The Social Compass for Rest-of-Web
33Across builds a custom Brand Graph for each of its clients, equipping them with a rest-of-web (ROW) marketing blueprint that identifies the universe of consumers likely to become brand loyal based on users' interests and social proximity to a brand.


Agencies and brands use the data trends and insights revealed in their Brand Graph to reach millions of new brand loyalists and to inform and guide their overall advertising strategy and spend.


About 33Across Inc.
Over 600,000 publishers and more than 375 Fortune 1000 marketers use 33Across's Brand Graph™ technology, tools, and real-time predictive systems to connect their content and products into the social graph. Clients rely on their Brand Graph to leverage how individuals and the networks around them react to what is read, purchased, shared, and recommended in real-time. Reaching over 1.25 billion users, 33Across processes billions of anonymous social engagement, influence, and interest actions that surround marketer and publisher brands each day. The company has offices in 11 cities including New York, San Francisco, Sunnyvale, Salt Lake City, Chicago, Detroit, and Boston. Learn more at 33across.com
PDF Attachment Available: http://www.33across.com/BrandGraph/33Across_BrandGraph_AQ1_2012.pdf
Image Available: http://www2.marketwire.com/mw/frame_mw?attachid=1978546

Add to Digg Bookmark with del.icio.us Add to Newsvine
Copyright @ Marketwire
Page: 1
Related Keywords:
brand, social graph, digital advertising, internet, social media, performance, online video, USA, Marketwire, , Financial, Internet Technology, Entertainment, Internet,
---