2012: The Quiet Revolution in Flat-Screen TVs
NXP Extends Its Market Leadership in Silicon TV Tuners as They Overtake Can-Type Tuners in 2012 Models
(June 15, 2012)

EINDHOVEN, THE NETHERLANDS and SHANGHAI, CHINA -- (Marketwire) -- 06/15/12 -- From HDTV to LED backlighting, from Internet connectivity to 3D TV, the newest TV sets introduced in 2012 offer many advanced capabilities that enhance the viewing experience. At the same time, there is another quiet revolution taking place in television design and manufacturing: This is the first year that the majority of flat-panel TVs are using silicon tuners instead of MOPLL-based can tuners. NXP Semiconductors N.V. (NASDAQ: NXPI), the global market leader in silicon TV tuners, is at the forefront of enabling this shift, and has shipped its 650 millionth silicon tuner last month.
"Silicon tuners have finally surpassed traditional can-type modules in this year's line-up of new TV sets," said Gerry Kaufhold, NPD DisplaySearch analyst. "The major name-brand TV set manufacturers have been convinced of silicon tuners' performance and reliability. With industry-leading experience in supporting worldwide broadcasting standards, its specialty RF process technology, and a strong global supply chain, NXP is driving forward this epochal shift from traditional can-type tuners to silicon TV tuners."
NXP's silicon tuners can be found in 13 out of the top 15 brand TVs. In addition, NXP plays a significant role in supplying the fast-growing OEM TV set market in China including manufacturers such as TCL and Konka, as well as the major ODMs in Taiwan. As reported recently in the NPD DisplaySearch 2012 Global TV Replacement Study, on average, consumers worldwide are replacing their TVs more quickly, suggesting that there is continued growth potential in the flat-screen TV market, particularly in emerging markets where CRTs are still widely used.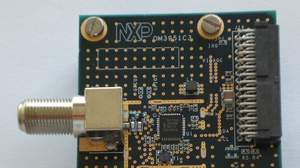 "As one of the top TV module makers in the world, we feel it's important to work with a world leader in silicon TV tuners. We're very pleased to confirm that LG IT has once again selected NXP Semiconductors as its main supplier for silicon tuners this year," said K.S. Park, vice president of R&D, LG IT. "NXP has the advantage of offering a complete range of products covering all terrestrial, cable and satellite standards worldwide. Furthermore, the excellent level of quality and business support distinguishes NXP in the highly competitive tuner IC business."
Legacy designs using mixer-oscillator phased lock loop (MOPLL) in tuner cans require up to 150 discrete components, many of which require manual alignment. In contrast, NXP's single-chip silicon tuners such as the TDA18273 and TDA18274 feature a high level of integration, incorporating oscillators, IF selectivity and wideband gain control, and eliminate the need for external components such as low-noise amplifiers (LNAs), surface acoustic wave (SAW) filters and baluns. By reducing the number of peripheral components, NXP's silicon tuner solutions enable higher system reliability in a very small form factor that facilitates the design of ultra-slim, flat-panel TVs. Further, NXP's silicon tuners are manufactured under NXP's zero-defect program, which enables manufacturers to simplify product assembly and supply-chain management.
"TV manufacturers today face a very dynamic market landscape, with tremendous potential for forward-thinking players who are able to deliver the right combination of features, functionality, quality and cost to consumers," said Olivier Harquin, senior director, TV front-end business line, NXP Semiconductors. "At NXP, we have been producing silicon tuners for over a decade, and are committed to working with our customers to develop cost-effective, high-performance solutions that enable sleek, reliable flat-screen TV designs."
Links
About NXP Semiconductors
NXP Semiconductors N.V. (NASDAQ: NXPI) provides High Performance Mixed Signal and Standard Product solutions that leverage its leading RF, Analog, Power Management, Interface, Security and Digital Processing expertise. These innovations are used in a wide range of automotive, identification, wireless infrastructure, lighting, industrial, mobile, consumer and computing applications. A global semiconductor company with operations in more than 25 countries, NXP posted revenue of $4.2 billion in 2011. Additional information can be found by visiting www.nxp.com.
Forward-looking Statements
This document includes forward-looking statements which include statements regarding NXP's business strategy, financial condition, results of operations, and market data, as well as any other statements which are not historical facts. By their nature, forward-looking statements are subject to numerous factors, risks and uncertainties that could cause actual outcomes and results to be materially different from those projected. These factors, risks and uncertainties include the following: market demand and semiconductor industry conditions; the ability to successfully introduce new technologies and products; the end-market demand for the goods into which NXP's products are incorporated; the ability to generate sufficient cash, raise sufficient capital or refinance corporate debt at or before maturity; the ability to meet the combination of corporate debt service, research and development and capital investment requirements; the ability to accurately estimate demand and match manufacturing production capacity accordingly or obtain supplies from third-party producers; the access to production capacity from third-party outsourcing partners; any events that might affect third-party business partners or NXP's relationship with them; the ability to secure adequate and timely supply of equipment and materials from suppliers; the ability to avoid operational problems and product defects and, if such issues were to arise, to correct them quickly; the ability to form strategic partnerships and joint ventures and to successfully cooperate with alliance partners; the ability to win competitive bid selection processes to develop products for use in customers' equipment and products; the ability to successfully establish a brand identity; the ability to successfully hire and retain key management and senior product architects; and, the ability to maintain good relationships with our suppliers. In addition, this document contains information concerning the semiconductor industry and NXP's business segments generally, which is forward-looking in nature and is based on a variety of assumptions regarding the ways in which the semiconductor industry, NXP's market segments and product areas may develop. NXP has based these assumptions on information currently available, if any one or more of these assumptions turn out to be incorrect, actual market results may differ from those predicted. While NXP does not know what impact any such differences may have on its business, if there are such differences, its future results of operations and its financial condition could be materially adversely affected. Readers are cautioned not to place undue reliance on these forward-looking statements, which speak to results only as of the date the statements were made. Except for any ongoing obligation to disclose material information as required by the United States federal securities laws, NXP does not have any intention or obligation to publicly update or revise any forward-looking statements after we distribute this document, whether to reflect any future events or circumstances or otherwise. For a discussion of potential risks and uncertainties, please refer to the risk factors listed in our SEC filings. Copies of our SEC filings are available from on our Investor Relations website, www.nxp.com/investor, or from the SEC website, www.sec.gov.
Image Available: http://www2.marketwire.com/mw/frame_mw?attachid=2014137

Add to Digg Bookmark with del.icio.us Add to Newsvine
Copyright @ Marketwire
Page: 1
Related Keywords:
nxp, silicon tuner, tv tuner, flat screen, flat panel, lte immunity, terrestrial, cable, hybrid, Broadcast, Management, Digital, Internet/Web, Display, Prosumer/Consumer, Business, Internet, HDTV, Standards/Initiatives, Anim, Broadcast Technology, HDTV, USA, China, Taiwan, Marketwire, Financial, Television, Internet Technology, Business, Internet, china, Other,
---