2008 Year in Review: Picnik Announces a 1,400 Percent Increase in Site Traffic Growth for 2008
Picnik.com Earns Top Industry Honors in Previous Year and Records a Remarkable 24 Million Site Visits a Month as We Enter 2009
(January 06, 2009)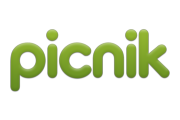 SEATTLE, WA -- (Marketwire) -- 01/06/09 -- Picnik (www.picnik.com), the leading online photo-editing application, is today announcing that its site visits from 2007 to 2008 has exceeded company and industry expectations -- with a 1,400 percent increase in site traffic in the last year.
In December 2007, Picnik had 1.7 million monthly visits, with 631,000 unique visitors -- in December 2008, Picnik reached over 24 million monthly visits and 7.4 million unique visitors. From the most recent numbers, this translates to a month-to-month increase of 25 percent.
"Within the last year, the landscape for Web-based computing and online photo editing have changed dramatically and we think Picnik has been that change agent," said Jonathan Sposato, chief executive officer of Picnik.com. "We're heartened by how far Picnik has come in less than two years, and can't wait to see our momentum continue to rise in '09."
To-date, the average Picnik user spends about 20 minutes at Picnik.com with each visit, in part, due to the newest available features. This year Picnik introduced Collage, Fancy Collages, multiple photo uploading through the 'Picnik Basket,' batch editing, advanced Layers and Levels, holiday templates and extensive font and shape enhancements.
Also, in 2008, Picnik broke barriers with its new Sandbox tab allowing developers to create and contribute their own personally developed tools through Picnik.com -- making Picnik one of the only online photo editors to allow other developers and users to contribute new, unique features to the photo editing process.
Additionally, Picnik established partnerships with companies like QOOP, MySpace, Photobox, SmugMug, Epson, among others, and also made a number of new company hires in key creative and development areas.
Some of the industry achievements and accolades Picnik earned in 2008 include the following:
-- TIME magazine 50 Best Websites of 2008 -- Picnik was the only photo site to make the list and its review touted that, "only Picnik offers (photo-editing features) with such elegant simplicity." -- American Business Awards "the Stevie" -- Picnik was honored for "Best overall Web site Design" by the Dow Jones-sponsored award, where winners were selected from over 2,600 entries submitted. -- Named a "Top Ten Facebook Application" -- in the guidebook written by Facebook insiders, "Facebook for Dummies." -- I.D. Magazine -- Picnik won the magazine's "Best of Class Award" in the Interactive category. Other winners in this juried competition for world-class design excellence included the Apple iPhone and Seattle's Olympic Sculpture Park. -- Interactive Media Award -- Picnik received a "Best in Class Award" in the Photography category. These awards were judged by leaders in the Web design, advertising, public relations, publishing and news industries, scoring a 490 out of 500. -- International Academy of Digital Arts & Sciences "Webby Award" -- Picnik received "official honoree" distinction for Function in Visual Design. -- Horizon Interactive Awards -- Picnik won a bronze award in the Flash category. -- Web Marketing Association Web Awards -- Picnik was awarded "Outstanding Achievement in Website Development." -- Pixel Awards -- Out of thousands of entrants, Picnik won a Pixel Award in the "Geek" category, beating Adobe Creative License, Meebo.com, Simplify Your Work and Novell. -- MediaPost OMMA Award -- Picnik was honored as a finalist for Web Site Excellence. -- International Academy of Visual Arts -- Picnik won a W3 Award (Web sites, Web Advertising and Web Video) in the graphics category for "best structure and navigation for a Web site." -- Inaugural TIS "The Industry Standard" Award -- Picnik won first place in the graphics category. -- Seattle Start-Up Index (TechVibes.com) -- In November 2008 Picnik is ranked as the #4 startup in Seattle out of 255 other companies.
About Picnik
Picnik.com gives real people photo-editing superpowers. Because Picnik lives online, users get fast, easy access to a powerful set of photo editing tools for editing, sharing, and printing images using any Internet browser (Internet Explorer, Firefox, Safari, Mozilla, etc.) on any computer platform (PC, Mac, Linux).
Picnik is fast, fun, and easy-to-use and is fully integrated with a wide variety of Web sites including Flickr, Facebook, SmugMug, Photobucket, MySpace, Webshots, Box.net, Picasa Web Albums and Lexmark. With Picnik, you can edit your photos wherever they are from wherever you are.
The Picnik team, headquartered in Seattle, is dedicated to making great, affordable software for real people. Picnik is also committed to leaving a light carbon footprint by encouraging environmentally conscious business practices and keeping it green in all we do.
For more information, demos, screenshots of the new features or a reviewer's guide please visit: http://press.picnik.com.
Press Contact:
Erica Chandler
MWW Group
206.689.8505
Email Contact


Copyright @ Marketwire
Page: 1
Related Keywords:
Picnik , Mac, OS9, OSX, Marketwire, Apple Computer, Internet Technology, Business, Internet, Olympics, Other,
---