/ CORRECTION - Intuitive Motion
(April 26, 2012)

SANTA CLARA, CA -- (Marketwire) -- 04/26/12 -- In the news release issued Monday, April 23rd, by Intuitive Motion, we are advised by the company that the award in the headline and first paragraph should be "DEMOgod Award" rather than "DEMO God People's Choice Award" and that the first sentence of the first paragraph should end "out of sixteen start-ups in the consumer technologies category" rather than "out of the 81 presenting start-ups, as voted on by attendees" as originally issued. Complete corrected text follows.
Intuitive Motion Wins "DEMOgod Award" at 2012 DEMO Conference
Introduces Special Edition Weight-Sensing ZBoard Electric Skateboards for Hills, Beach Promenades and Music Aficionados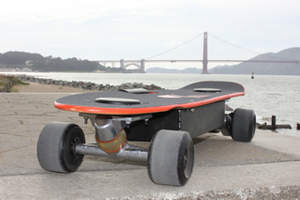 SANTA CLARA, CA -- April 23, 2012 -- Following a six minute presentation full of never-before-seen Special Edition ZBoard models, Intuitive Motion received the 2012 VentureBeat DEMO Conference's "DEMOgod Award" out of sixteen start-ups in the consumer technologies category.
Since unveiling the standard ZBoard Weight-Sensing Electric Skateboard in January 2012 at CES, pre-orders have passed 450 from 15 different countries. The ZBoard is also currently a finalist in the University of Michigan's Mobiprize Contest, highlighting innovations in urban commuting. Vote for the ZBoard on the contest's website.
On the panel following Intuitive Motion's presentation, James Slavet of Greylock Partners was supportive, saying "[the ZBoard] is useful with a little dose of magic" and VentureBeat's Meghan Kelly added that "there is something [both] futuristic and nostalgic about it." DEMO Executive Producer Matt Marshall felt that "[the ZBoard] is everything the Segway wanted to be without the sky-high price tag," after hearing of the standard ZBoard's $500 pre-order pricing.
Other fans have gravitated to the ZBoard's simple lean-forward-to-go/lean-back-to-stop control scheme and eagerly await the arrival of their pre-ordered ZBoards this summer.
"These 2012 ZBoard Special Edition models are the first of many customized versions we plan to make," said Intuitive Motion Co-Founder Ben Forman. "We will offer Special Editions for various cities, colleges, companies and interests."
The first special edition ZBoard announced was the San Francisco Special. Inspired by the city's world-renowned hills, the San Francisco Special features a motor with increased torque, making it capable of ascending and descending the city's steep gradients, and an eye-catching black and orange color scheme. See the Special Editions page on the company's website for a video of the Santa Monica Special.
Next, Intuitive Motion announced the Santa Monica Special. Inspired by Southern California's beach promenades, the Santa Monica Special features increased range, smooth wheels designed for concrete surfaces, and surf-inspired aesthetics. See the Special Editions page on the company's website for a video of the Santa Monica Special.
Also, Intuitive Motion announced the ZBoard Stereo Special. Equipped with four embedded speakers (designed by Portable Sound Labs of Van Nuys, CA -- portablesoundlabs.com), the Stereo Special is the first skateboard ever with a Bluetooth enabled sound system. Riders can link their music player with their ZBoard and blast their favorite songs as they cruise along or as the founders say, "Rock While You Roll."
The 2012 Special Edition ZBoards will start shipping this holiday season. Pricing will begin at $1099. Customers can put their name on the waiting list at zboardshop.com to be notified of their release.
ABOUT INTUITIVE MOTION
Intuitive Motion is an engineering design firm based in Hermosa Beach, California. The Intuitive Motion team relies on their experience in the robotics, mechatronics, and manufacturing industries to design, build, and distribute fun and innovative personal vehicles.
Image Available: http://www2.marketwire.com/mw/frame_mw?attachid=1960634
Embedded Video Available: http://www2.marketwire.com/mw/frame_mw?attachid=1960632

Add to Digg Bookmark with del.icio.us Add to Newsvine
For more information, contact:
Ben Forman
(310) 961-4255
Email Contact


Copyright @ Marketwire
Page: 1
Related Keywords:
electric skateboard, motorized skateboard, zboard, demo, demo skateboard, Marketwire, ,CES Attendees,Shipping,Music,Communications Technology,Engineering,Other,
---